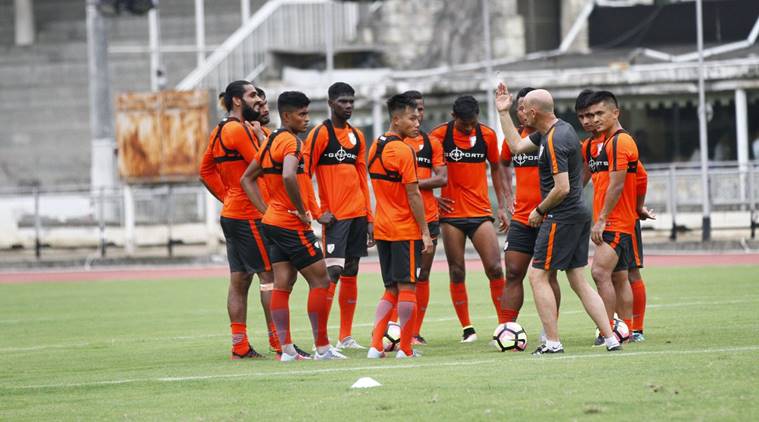 India outclassed their opponents 4-1 on a remarkable outing to ensure that they are on flight for the Asia Cup, 2019 which is to be organised in the UAE.
The rain-soaked atmosphere at the Sree Kanteerava Stadium was in marked contrast to India's spirited performance as they registered a comprehensive 4-1 win over challengers Macau on Wednesday. India last played in the tournament in 2011 when they qualified after winning the AFC Challenge Cup.
Macau troubled India till the hour mark when skipper Sunil Chhetri gave finishing touches to a brilliant run by super sub Balwant Singh, who had scored both the goals in the away leg last month.
Nicholas Mario de Almeida Torrão scored the lone goal for the visitors in the 37th minute.
The path to the qualification to Asian Cup UAE 2019 became all the broader when in the 70th minute a Halicharan shot deflected off a defender and rolled over the head of Man Fai.
Kyrgyzstan are second with four points from three matches, the same as third placed Myanmar. A win will take India to 12 points from four games and confirm one of the top two berths in Group A, enough to see them at the Asian Cup finals for the first time in eight years.
India may have got the result on the night, but their defending on the whole was inconsistent, allowing strikers Tarrao and Carlos Leonel several sights of Sandhu's goal. The Central Asians however, are ahead on goal difference. The Macau men charged forward to salvage some pride, but were left exposed as Jeje was found by Chettri to prod home a fourth, finishing the game with aplomb.
Amidst the successful hosting of the Federation Internationale de Football Association U-17 World Cup India 2017 where the Indian U-17 National team have won hearts of 1.3 billion people with their stupendous performances, the Senior Indian National team who were already on track for a qualification to the AFC Asian Cup UAE 2019 felt it best to settle matters on Wednesday (October 11, 2017) itself, that too with two more matches left.
The Indians made their domination count when Narayan Das fired in a low cross from the left wing which was met by a Jeje backheel.
Macau were punished again ten minutes later with Seng's deflection lobbing into his own net after he attempted to clear Narzary's cross.
The hosts continued to apply the pressure which led to Macau conceding the third goal.
For his goal, Borges fooled the Macanese goalkeeper after he received a pass from Jeje, who had the presence of mind to spot him.