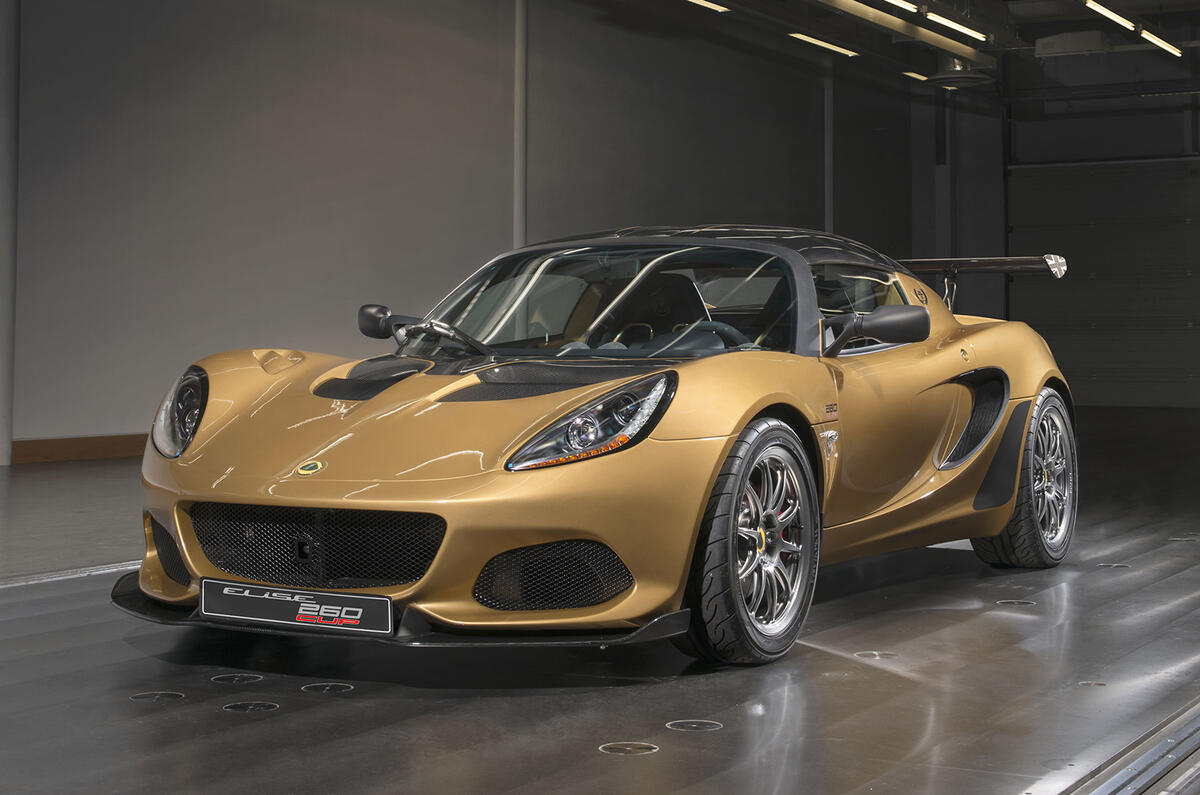 According to the British sports car-maker, the Cup 260 is the ultimate Elise, built with racing in mind. The short dash from 0-62mph is thus dealt with in 4.2sec as opposed to 250 Cups 4.3sec time, before running into a top speed of 151mph. Following this year's updated Elise Cup 250, the Lotus Elise Cup 260 has arrived, and it's predictably faster and lighter than its predecessor.
The Elise Cup 260 is based on the company's racecar-derived Elise and features a host of those race-bred parts that according to the company, make it the ultimate Elise. A 10bhp power hike may sound insignificant considering its extra 42kg over the Cup 250, but the Cup 260 produces an additional 44% of downforce, at 180kg.
The Cup 250's lightweight carbon fiber and composite components have been carried over, including forged alloy wheels, two-piece aluminium brake discs, and a polycarbonate rear screen. By using new louvred front wheel-arch vents, a lightweight carbon fiber front splitter, and a race-derived rear wing borrowed from the Lotus 3-Eleven track auto, the Cup 260 generates up to 180 kg of downforce at 151 miles per hour.
Only 30 examples of the Elise Cup 260 will be produced and since the Elise doesn't meet current USA road standards, none will arrive on our shores for quite some time. Lotus says this vehicle is even lighter than the already pint-sized Cup 250.
Together, these changes contribute to a lap time around Lotus' Hethel test track of 1 minute 32 seconds - which is 2.5 seconds faster than the Elise Cup 250.
The exterior has been done up in gold and features a couple of wreaths meant to commemorate the 70th anniversary of Lotus' first vehicle. It also features a laurel wreath decal on the left buttress, and the Union Jack on both rear wing end plates. At 1,988 lbs, the Elise Cup 260's unladen-swallow-esque weight is thanks to a thoroughly lightened chassis.
The engine is mated to a six-speed manual transmission, with new closer ratios, and will top out at 151 miles per hour.
Lotusrides the special edition train almost as often as Jeep.
The new Elise Cup 260 is a limited edition model from Lotus, with just 30 examples to be sold worldwide.
Prices start at a Porsche 718 Cayman GTS-rivalling 58,500 GBP ($77,143) in the UK.
Lotus hasn't released pricing, but given that other special edition Lotus' held a hefty premium, it's safe to assume that this little Elise will too.