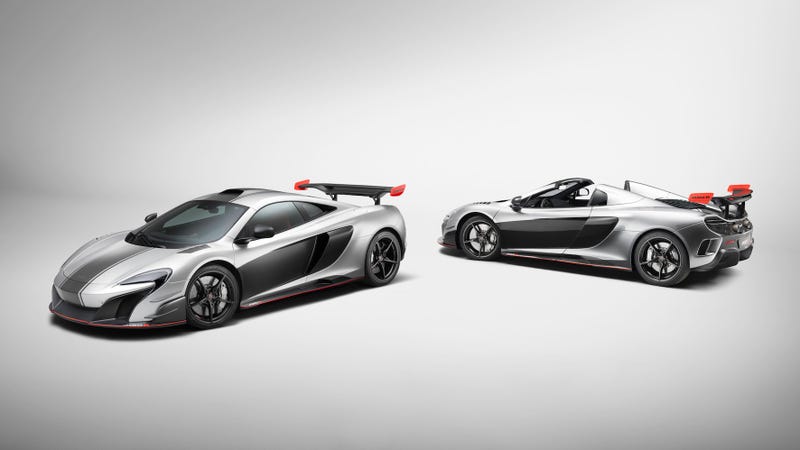 McLaren Special Operations (MSO) has revealed a new pair of bespoke supercars named MSO R, one as a coupé and another as a drop-top Spider. They're the team behind all manner of special editions and specialist commissions, the first of which was the Gerry Anderson-esque X-1.
McLaren doesn't release pricing for its bespoke models, but given that just two of these exist in completely bespoke form, the figure for each will far surpass the £261,555 that was asked for the discontinued 675LT. Badged only MSO R, the coupe and the spider have been lavished with all the best Macca bits and bobs and - we reckon - it's all been done in the best possible taste. Incredible how bright pink can make a carbon central stripe, giant rear wing and dive planes look quite sensible. Much of the carbon - known as VCF or Visual Carbon Fibre in McLaren jargon - is familiar from the 688HS, including the roof scoop, front splitter and rear diffuser.
Other personalisation touches include Delta Red pinstripes, an MSO-branded key and a "dedication" plaque marking the two cars out a unique pair. The five-spoke alloy wheels are similarly designed, with respectively matching satin and gloss finishes. Both cabins feature Alcantara® trim material throughout.
Inside, black Alcantara covers the dashboard, contrasted by red bucket seats complete with MSO R embroidery.
Its interior has been suitably hosed in Alcantara, with the steering wheel getting a centre stripe. Both cars are powered by McLaren M838TL 3.8-liter twin-turbocharged V8. Its 679bhp is just 13bhp up on the 675LT, yet the pair of MSO R engines haven't just had an ECU tweak: there are hand polished heads and exhaust ports, and a unique exhaust system with titanium end pipes. There are some bespoke touches on the instrument cluster that show the MSO R logo, along with a plaque in the door of each vehicle. The final visual touch is a dedication plaque on each auto identifying them as McLarens created to an MSO Personal Commission, taking them from being a rare vehicle to a unique one - or in this case, a unique matched pair.