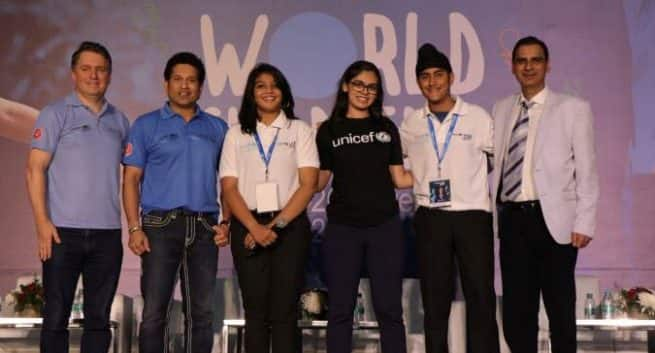 The Unicef survey, which was conducted online, also reveals that 54% children in Malaysia feel they are not being heard or that their views are not helping to bring about change, compared with 51% in Japan, 61% in the United States, and 71% in the UK.
Among other issues that were raised by the children were climate change (77 per cent) while poverty, terrorism and education access stood at 74 per cent.
Actor Amitabh Bachchan is far more popular as a birthday party guest than Prime Minister Narendra Modi and SachinTendulkar among children aged 9-18 years, found a Unicef survey of 1,000 children in India as part of a 14 countries survey released onWorld Children's Day on November 20.
Unicef representative to Malaysia, Marianne Clark-Hattingh said the authorities should view bullying seriously if more than three quarters of children were anxious about being bullied. "We need parents and teachers to be more cautious and dissuade any kind of bullying", says Dr Samir Parikh, director, department of mental health and behavioral sciences, Fortis Healthcare.
The global Unicef survey echoes findings from the Children4Change opinion conducted locally in Malaysia in terms of children's concerns and priorities.
"They know about issues affecting children and global issues, but they are also quite aware that they are not listened to".
A high 95% of children in Malaysia believe the world will be a better place if the leaders will listen to children. Many are expected to join Secretary General Antonio Guterres and 150 children in a "take-over" of the United Nations complex.
Children in India felt more empowered than the rest, with 52% of them believing their voices are heard and that their opinions can affect the future of their country.
In the study, the children's interests were also taken into account with Barack Obama being the top choice to be invited to their birthday parties, followed by footballer Cristiano Ronaldo, singer Justin Bieber and AliBaba founder Jack Ma.
Malaysian children also top the charts in smartphone usage at 80%, compared with their counterparts in the USA (74%), United Kingdom (73%) and Japan (63%), and spend equal time on social media (59%) and homework (59%). Smart phone usage is the highest among Malaysian children.
Among a host of events and activities worldwide, at UN Headquarters in New York, UNICEF will bring together high-profile supporters, influencers and special guests alongside children who represent some of the world's most vulnerable children to speak out to the global community on issues that matter to them.
About 30 children from across the social spectrum in Malaysia will participate in the Children's Media Takeover programme Monday to make their voices heard on various media platforms during World Children's Day.