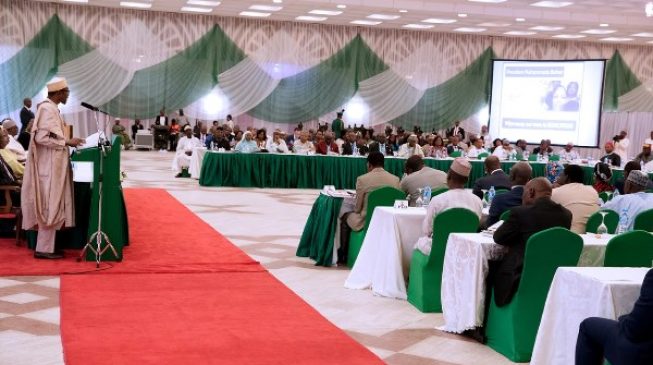 Amidst protest by labour unions and some Nigerians, President Muhammadu Buhari on Monday gave his nod to moves by Governor Nasir el-Rufai of Kaduna State to sack 21,780 teachers in the state.
Buhari at the special retreat of the Federal Executive Council on the challenges facing the Education sector in Nigeria said what El-Rufai is doing is to rid Education in the state of rot and decay.
"The hiring of teachers in the past was politicized and we intend to change that by bringing in young and qualified primary school teachers to restore the dignity of education in the state", El-Rufai said.
Describing education as a launch pad to a prosperous future of any society, president Buhari said Nigeria can no longer pretend that all is well with its education system, emphasizing his administration's resolve to improve the lot of the people through the provision of quality and affordable education.
"It is a very serious situation, when teachers can not pass the exams that they are supposed to teach the children to pass". Is a very tragic situation we are in'.
"Being an orphan, I still feel that boarding school moulded me". Those days, teachers behave to students like their children. If you did well, they would tell you that you did well. If you don't, they will never spare the rod and then when I finished, six years in Secondary School then, I didn't work for a day.
"I listened to one Nigerian I respect. He said after his training here in Nigeria and United states, he went to his primary school to see what could he contribute, I will not mention his name; but when he went, he couldn't differentiate between the students or the children and the teachers", the president said.
"Governor El-Rufai is trying to implement important reforms", the president said. It is a very very serious situation when teachers can not pass the exams they are supposed to teach the children to pass.
Also, the Director-General, Progressive Governors Forum (PGF), Salihu Mohammed Lukman, canvassed support for the planned sack of the teachers.