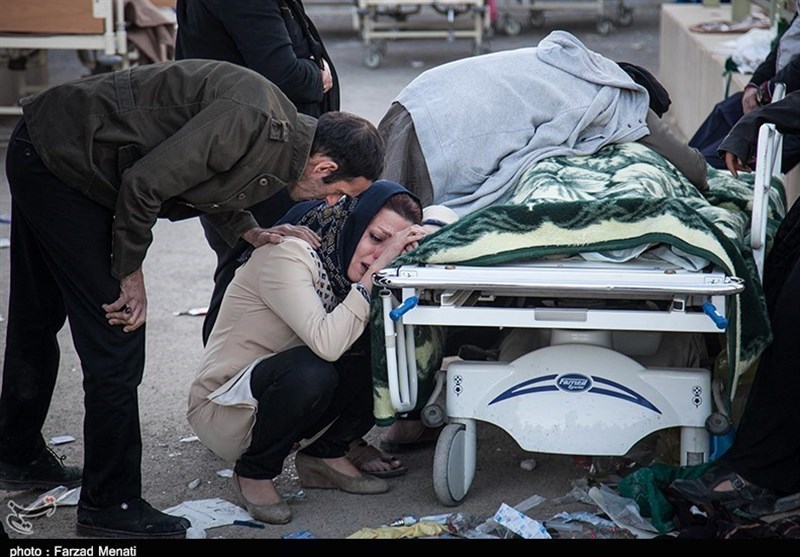 The toll in Iran stood at 430 dead and 7,460 injured, while across the border in more sparsely populated areas of Iraq, the health ministry said eight people had died and several hundred were injured. President Hassan Rouhani is due to visit the region on Tuesday.
The quake also shook the Iranian provinces of Kordestan, Ilam, Khuzestan, Markazi, West Azarbaijan, East Azarbaijan, Lorestan, Qazvin, Zanjan, Qom and Tehran. It struck about 30 km south of the Iraqi town Darbandikhan, near the north-eastern border with Iran.
According to the official reports, Power is cut off in the cities of Qasre-Shirin, Gilane-Garb, Kermanshah, Sare-Pule-Zahab in Kermanshah and houses in some western Iranian villages have been severely damaged to various degrees.
State television says thousands have been huddling in makeshift camps while many others spent a second night in the open for fear of more tremors. Many whose homes were still intact were frightened of returning because of dozens of aftershocks.
"Today, we sent our ambulances to villages in areas affected by the quake to help people rescued yesterday, including changing their bandages", he said. "The authorities should speed up their help", the BBC quoted a homeless young woman in Sarpol-e-Zahab, the town with the maximum number of victims.
In a televised interview on Monday, IRGC Commander Major General Mohammad Ali Jafari said his forces are working in close cooperation with the Army to help victims of the massive natural disaster in western Iran.
The country's Red Crescent relief agency reported that emergency shelters outside the hardest hit areas are prepared to take in thousands of people, but because of blocked roads and a lack of water and electricity, relief work is being hampered. Iranian Army helicopters were taking part in the relief effort.