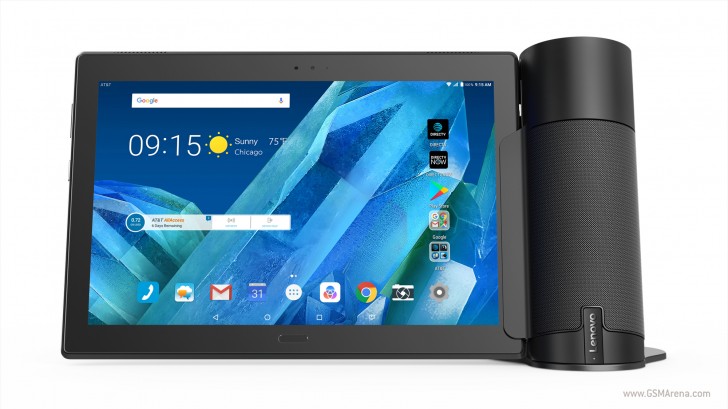 For perspective, Motorola's last product in the tablet form factor was the Moto Xoom 2, launched back in 2011. A lot has happened to the company since then, including changing owners twice. The Tab will pack a 7,000 mAh battery while running on Android Nougat 7.1.1 out of the box. Lenovo recently announced the Moto Tab, but despite having the "Moto" branding, this is very much so a Lenovo and AT&T tablet rather than a true Motorola one. The device also offers 2GB of RAM and 32GB of expandable (up to 128GB) internal storage space. This isn't going to do well for heavy-duty binging.
Now we have come to know that the tablet is dubbed as Lenovo Moto Tab, and will be launched in the United States on November 17.
On the outside, the Moto Tab features dual front-facing speakers backed by Dolby Atmos, with a fingerprint sensor below the landscape-oriented 10.1-inch Full HD display.
If the specs, not to mention the straightforward name, reminds you of Lenovo's own tablets, you wouldn't be too far from the mark.
Lenovo is selling the Moto Tab exclusively through AT&T, and as such, it comes preinstalled with just about every carrier app you can imagine. It's priced at $299.99 straight up but you can also grab it through an installment plan at $15 per month for 20 months. It main highlight, however, is the "TV Mode" that gives quick access to TV shows, movies, and other multimedia content with a single swipe or tap.
In addition to the Moto Tab, Lenovo will soon introduce a stand with premium dual mics and a 3W speaker known as the Lenovo Home Assistant Pack, as well as the Lenovo Productivity Pack set of accessories which consists of a Bluetooth ThinkPad keyboard with a Touchpad mouse and case folio.