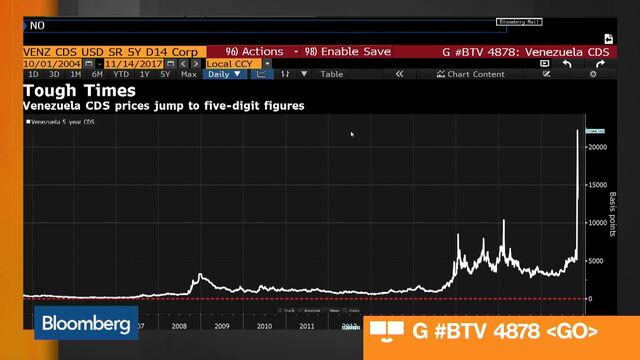 Participants at the meeting told AFP that officials said the government meant to form working groups to evaluate short- and mid-term debt renegotiation proposals, but gave no specifics.
Besides the two bond payments it has defaulted on, Venezuela is overdue on four other debt payments but they were still within the 30 day grace period, S&P said.
S&P's move came after Vice President Tareck El Aissami met with creditors in Caracas Monday, but offered no way out of the impasse.
In the past, despite the hardships its people suffer, Venezuela has used its foreign reserves to make bond payments.
About 70 percent of Venezuelan bondholders are North American, according to government figures.
"If any potential restructuring operation is completed, we would lower all of our foreign currency ratings on Venezuela to default and subsequently raise them to the "CCC" or "B" category".
Venezuela's government said its plan to refinance some $60 billion in bonds was successfully underway, while a rating agency declared the nation in selective default over missed coupon payments.
Vice-president El Aissami blamed U.S. sanctions for delays to Venezuela's debt repayments.
The Maduro government had said it would make a $1.2-billion payment on a PDVSA bond on November 2, but it was unclear if the funds ever reached creditors.
A meeting between Venezuela and its creditors on Monday ended without an agreement to restructure the country's debt, the same day the European Union adopted sanctions over its "political polarisation". And many creditors also can't negotiate with El Aissami: He, too, is sanctioned by the US Treasury, which accuses him of drug trafficking.
"We rate this meeting, in which Venezuelan debt holders from Venezuela, the United States, Panama, the United Kingdom, Portugal, Colombia, Chile, Argentina, Japan and Germany participated, as highly positive and very auspicious", the statement continued.