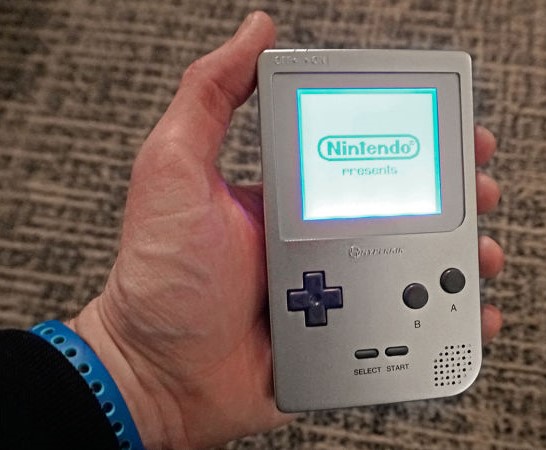 It's no secret that retro games are in fashion right now, which is consistently proven by homages to old-school games as well as the huge successes of the NES and SNES Classic Editions. That has left a gap in the market that peripherals manufacturer Hyperkin intends to fill.
It's now called the Ultra Game Boy for the moment as it's still in development.
The Ultra Game Boy (not final name, subject to change any second now once Nintendo's lawyers wake up tomorrow morning) is the latest hardware in Hyperkin's line of retro emulation-driven consoles, and while it's not the company's first handheld it is the first one for the Game Boy.
It has an aluminium body, a backlit LCD, 6 hour battery life, USB C charging, stereo speakers and it's aiming to be sold at less than $100 United States dollars. While the case design only has the one set of holes on the bottom-right to stay true to the look of the Pocket, it's actually got stereo speakers as well as stereo-out, and one of the system's goals is to target chiptune musicians. We'll update once the details are confirmed, such as if it will play Game Boy Color cartridges as well.
Nintendo may not have announced a Classic Mini version of the Game Boy, but retro console maker Hyperkin is planning an unofficial version. This is a device that runs original cartridges, not ROMs, so at least doesn't infringe on Nintendo's copyrights in that respect. They haven't said whether it's compatible with Gameboy Colour games in addition to the original GB games.