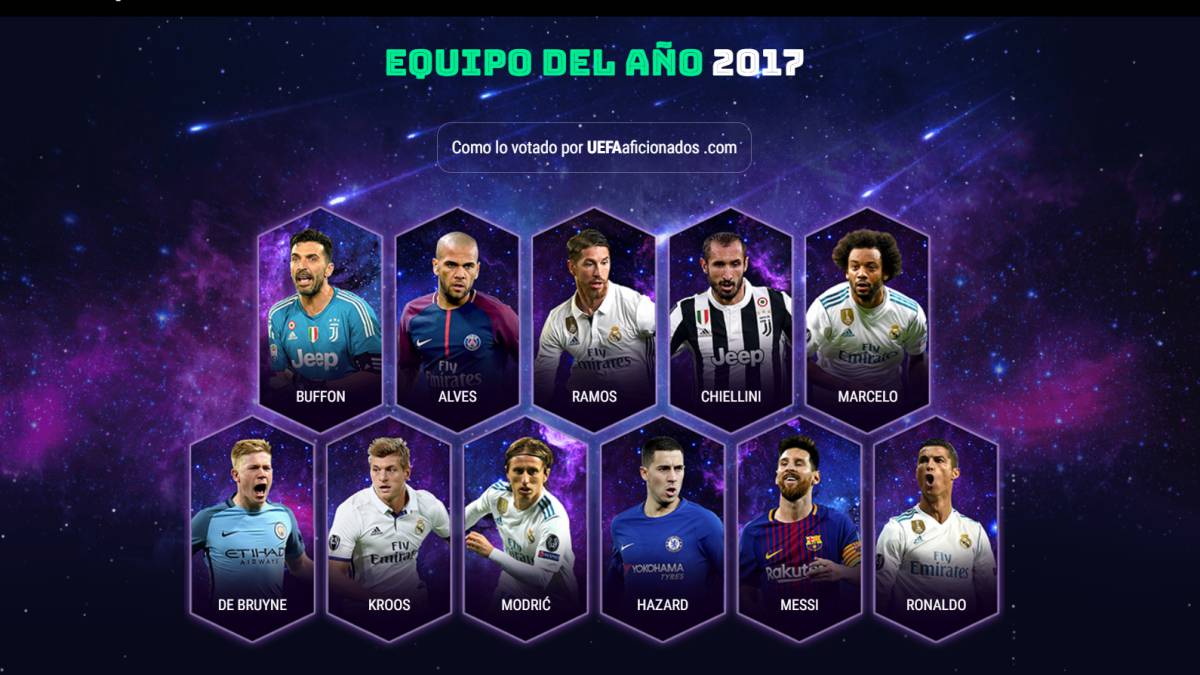 A record 8.8m votes were cast to decide the XI, with users deciding on their preferred formation from a shortlist of 50 players chosen by the UEFA.com editorial team. The elite team features some of the most popular names in world football with a majority of them coming from the Spanish top flight.
Manchester United goalkeeper David De Gea was also a surprise omission from the list - with many regarding the Spaniard the finest goalkeeper in world football.
Kevin De Bruyne and Eden Hazard were new entrants this year as well as being the first Belgians to be represented in the final team.
The team's central midfielders included two more Real Madrid players, Toni Kroos and Luka Modric.
And while there have been disappointments for both club and country in 2017, Gianluigi Buffon will be happy to have been selected between the sticks.
Sergio Ramos (Real Madrid): 73.7%.
De Bruyne's sparkling performance for Manchester City earned him a place in the team for the first time.
Toni Kroos (Real Madrid): 43.3%.
Well, over 8.7 millions votes tell us that five-time Ballon d'or victor Messi featured in 59.8% of teams, while Ronaldo was only chosen in 55.7%. He was picked for a fifth time and is just one appearance behind leading keeper Iker Casillas.
39-year-old Gianluigi Buffon extends his record as the oldest ever player to make the team.