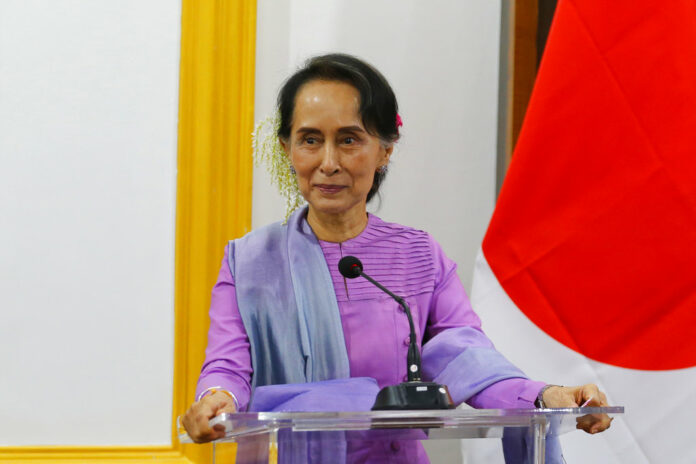 The Japanese government will provide humanitarian assistance for the integration of the two communal groups in Rakhine State, he said.
It will be their second appearance in court and the prosecutor could request that charges are filed against them. They face up to 14 years in prison if convicted. He added that the "independent judicial process" must continue, to determine whether Wa Lone and Kyaw Soe Oo are "guilty or not".
"In fact, Wa Lone and his friend had become acquainted with the police, after they finished their duty in Rakhine", he said.
"To achieve development in Rakhine State, it is critically important to solve the root-causes of the problems facing all the people in Rakhine State", Kono said. "It will come out in the trial".
- Washington-based Freedom House called in a statement for the immediate release of Wa Lone and Kyaw Soe Oo, saying their "real offence in the eyes of the government was their reporting on military crackdowns in Rakhine State". Family members have said the two told them they were arrested nearly immediately after being handed some documents by the officers they had gone to meet. They appeared in court on December 27 and were remanded until Wednesday, when they were charged. Than Zaw Aung said the officers have been included on the witness list for the prosecution.
- The Foreign Correspondents' Club of Myanmar said it was "appalled" by the arrests and "gravely concerned" about press freedom in Myanmar.
Than Zaw Aung said that the plaintiff, Yu Naing, objected when the lawyer applied for bail on behalf of the accused.
Arriving shortly after 10am, Wa Lone and Kyaw Soe Oo were bundled through a media scrum into the courtroom.
- The United States said it was "deeply disappointed" by Myanmar's decision to pursue charges under the Official Secrets Act against the two reporters.
The clause, which carries a maximum prison sentence of 14 years, prohibits visiting places, capturing images or handling documents that "might be or is meant to be, directly or indirectly, useful to an enemy".
Myanmar's Ministry of Information has said the reporters "illegally acquired information with the intention to share it with foreign media".
"They arrested us and took action against us because we were trying to reveal the truth", said one of the reporters. "Please investigate and report the true stories; while doing that, take care of your security", he said. Journalists must be able to freely exercise their profession without fear of intimidation or arrest.
Amnesty International said the men had "done absolutely nothing wrong". The six were initially charged under the 1908 Unlawful Associations Act but were released without charge in July, having spent nearly two months in jail.
The NewsGuild of NY, which counts around 3,000 members in the state and is part of the 25,000-strong nationwide NewsGuild ― which represents many Reuters employees in the United States ― launched a campaign Thursday, called "Journalism Is Not a Crime", in support of the two men and calling for their release.
In October, two foreign journalists, along with their fixer and driver, were prosecuted for flying a drone close to the national parliament.
Lawi Weng, The Irrawaddy journalist who spent two months in jail under the colonial-era Unlawful Associations Act, expressed the same hope.
Criticism within the country has been far more muted and largely confined to Myanmar's journalist community. However, the NLD civilian government could, in principle, have chosen not to seek charges. In July 2014, the so-called "Unity Five" were sentenced to 10 years in prison with hard labour. That they have pressed ahead indicates the limits of worldwide condemnation, which has included demands for their immediate release from Western governments, and a global media spotlight.
"As they near their hearing date, it remains entirely clear that they are innocent of any wrongdoing", Mr Adler said in a statement yesterday. Our colleagues should be allowed to return to their jobs reporting on events in Myanmar. We believe time is of the essence and we continue to call for Wa Lone and Kyaw Soe Oo's prompt release.
Reporters Without Borders (RSF) has reiterated its call for the immediate release of two Burmese reporters working for the Reuters news agency.
United Nations Secretary General António Guterres, United States Secretary of State Rex Tillerson, and other government officials internationally have also called for the release of Wa Lone and Kyaw Soe Oo.
"Press freedom is a cornerstone of democracy, and the government's growing crackdown on media is undermining the country's democratic transition", said Michael J. Abramowitz, the president of the global watchdog organisation.