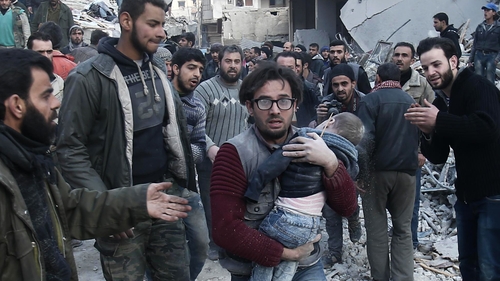 Israel has attacked several military outposts near the Syrian capital with jets and ground-to-ground missiles in an early-morning strike on Tuesday, Syria's army said.
The reported attacks targeted Syrian military sites located in the al-Qutaifa area near Damascus.
The army said it also "hit" an Israeli plane, without providing more details.
After the air raids, Israel also launched rockets from the occupied Golan Heights, but the Syrian military intercepted them, the army statement said. Israel has conducted periodic attacks in Syria since the conflict there began in 2011, but generally does not publicly acknowledge its operations. The same source says jets and ground-to-ground missiles were employed in the attack. Israel's security cabinet has held meetings several times in recent days to discuss how it should respond to the "day-after" the war as Syria returns to Mr Assad's control and to Iran's expanded influence in Syria according to Israeli television reports.
"This policy has not changed, we back it up as necessary with action".
It said Israel was "primarily" assisting Islamic State of Iraq and the Levant (ISIL) and Jabhat Fateh al-Sham, a former al-Qaeda affiliate.
The Syrian Observatory for Human Rights said that the Syrian forces had "opened a loophole" that led them into the base. Some reports suggest it was a vehicle bomb, while others say it was a drone attack.
Iran, Israel's main enemy, backs Assad in the war along with Russian Federation.