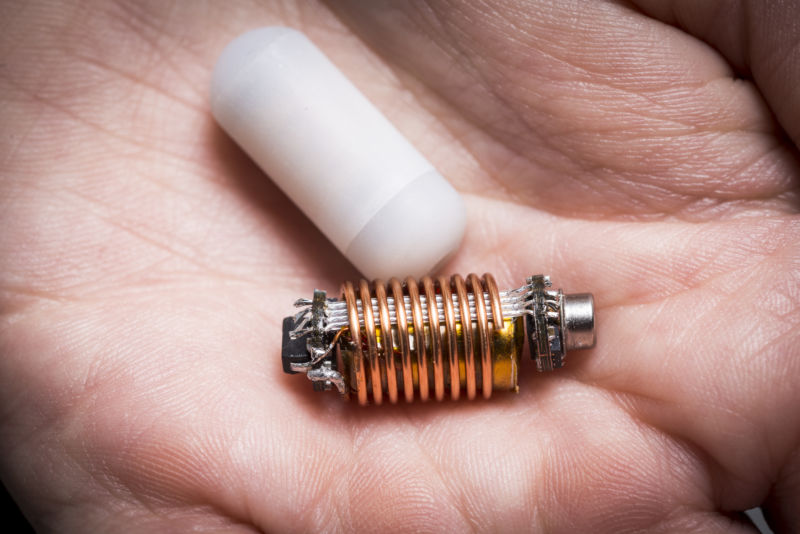 To this point, the 20% of people worldwide who will suffer from a gastrointestinal disorder at some point in their lives have had to undergo an invasive colonoscopy or surgery, or provide fecal samples, which are not always a good measurement of at-the-moment microbiome activity.
The capsule is about the size of a large pill - just 1 inch by 0.4 inches (2.6 centimeters by 1 centimeters). The sensor can withstand the harsh conditions of stomach acid and intestinal enzymes while it captures real-time measurements of gut gases, including hydrogen, carbon dioxide, and oxygen, all while sending the data to a device like a smart phone.
The results from the first human trials were published on Thursday in the journal Nature Electronics. "This could represent a gastric protection system against foreign bodies".
"We found that the stomach releases oxidising chemicals to break down and beat foreign compounds that are staying in the stomach for longer than usual", said Kourosh Kalantar-zadeh, lead author of the study. "Such an immune mechanism has never been reported before". "Trials showed the presence of high concentrations of oxygen in the colon under an extremely high-fiber diet", Dr Kalantar-Zadeh said.
"If we can actually have a dietary intervention that pushes a lot of oxygen into the colon, we can kill off a lot of bacteria, and maybe replace antibiotics and some of the problems that come with antibiotics won't be a problem in the future", he explained.
If it's approved, the capsule could revolutionize the way doctors diagnose gut disorders, and even help them assess a patient's diet, he said.
All going well, they hope the capsule will be on sale by 2020 for between $100 and $200.
The scientists are trying to raise up to $8 million for the next round of clinical trials of the device in 300 patients with digestive issues including irritable bowel syndrome and intestinal bacterial overgrowth.
He and other researchers are starting a company to continue testing the device.
"So, we started making a device, our capsule, to measure gases "directly" where they are generated in the gut", Kalantar-zadeh said. "But this meant measuring them when they are not a true reflection..."
The capsule is a "novel tool which can help us decipher the complex interactions between the host, gut bacteria and diet that ultimately determine our health or disease", said Dr. Premysl Bercik, an associate professor in the Department of Medicine at McMaster University, in Canada, who was not involved with the study. Early results are delivering compelling new insights into our digestive activity including a previously undiscovered observation of oxygen in our colon.