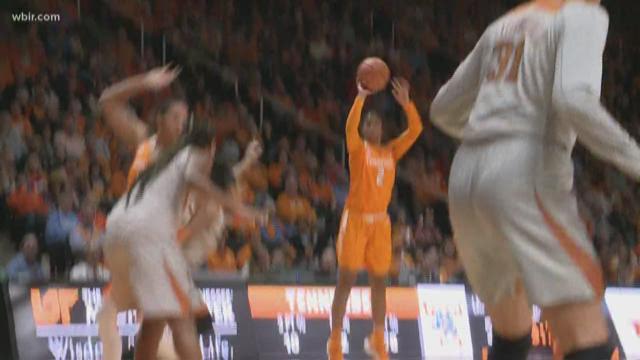 Thursday's match came down to the wire as Texas A&M beat Tennessee in overtime, 79-76.
Prior to the turnover, Texas A&M (14-4, 3-1) missed 18 consecutive shots before Danni Williams ended the skid to knot the game 74-74 with 44 seconds remaining.
While the loss ends the 15-game win streak for Tennessee, the Lady Vols must now turn their attention to a trio of top-ranked opponents that would leave most programs in a losing skid. Barnes improved his head coaching record to 647-353.
Self-inflicting wounds kept Texas A&M from completing a late rally on the road Saturday night, as the Aggies (11-6, 0-5 SEC) dropped their fifth-straight game with a 75-62 loss to No. 24 Tennessee.
For the first time in a month, the Aggies had its entire roster available to play. However, the Aggies, who got 16 points from Admon Gilder, 13 from DJ Hogg and 10 from Tonny Trocha-Morelos, have since gone into a slump.
This one wasn't so close.
Tennessee, which was plus-eight in turnovers at the half, went into intermission with a 36-28 lead. Williams chipped in 22 of her own while going 3-for-7 from 3-point range.
Texas A&M cut the margin to six early in the second half, but Tennessee gradually extended the lead and made it 53-40 on Bowden's 3-pointer with 11:16 left. Bowden led the Volunteers with 15 points while Alexander contributed 14 against Texas A&M's towering front line.
Pulling within six at 65-59 with 3:41 to go, there was a glimmer of hope for the Aggies.
The Vols entered the game against Texas A&M with the No. 13 RPI and the No. 3 Strength of Schedule (per ESPN), while the Aggies had the No. 33 RPI. After shooting 5 of 8 from beyond the arc in the first half, Texas A&M was just 3 of 12 in the second half.
The Vols won the battle of the boards, 38-29, and held even in points in the paint 32-32.
Texas A&M hosts MS on Tuesday.