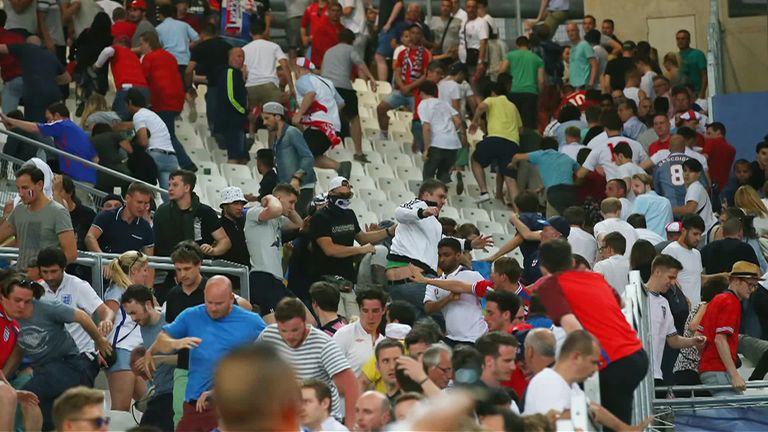 "Police detained the wanted man on his arrival in Erdinger Moos from Moscow", a police statement said.
The Russian was arrested while changing flights at Munich airport, the BBC reported on its website, adding that the suspect had arrived from Moscow, according to police, and was heading to Bilbao in Spain for a football match.
The arrest comes just months before Russian Federation hosts the World Cup from June 14 to July 15.
Scenes of the street battles ahead of the Russia-England match in Marseille on June 11, 2016, shocked the world and marred the tournament.
Bache was left paralysed on the left-hand side of his body after being hit around the head with an iron bar.
England supporters were attacked on the streets of Marseille and subjected to tear gas from the city's police force, before facing another attack in the stands from Russian Federation fans during the game.
The suspect "now sits in jail", said German police.
The suspect, who has not been named, was detained yesterday, on an global arrest warrant issued by France, while changing flights in Munich.
A Marseille prosecutor's office spokesman said yesterday: "Such facts have led to us investigating an attack on two England fans as attempted murder".
"These things usually go pretty quickly", he said.
Three Russians involved in the fighting were jailed for up to two years but none of those directly involved in the most serious assaults were nailed.
Putin had then sought to minimise the violence, drawing laughter from the crowd at an economic forum as he questioned "how 200 of our fans could beat up several thousand English".
There are obvious concerns over the upcoming World Cup, set to take place on Russian soil, but the country's feared FSB security service have already begun cracking down on football gangs and blacklisting some of their leaders ahead of the prestigious competition.
A Russian hooligan blamed for the "attempted homicide" of an England fan was finally arrested on Wednesday, following a manhunt that spanned the entire European continent.