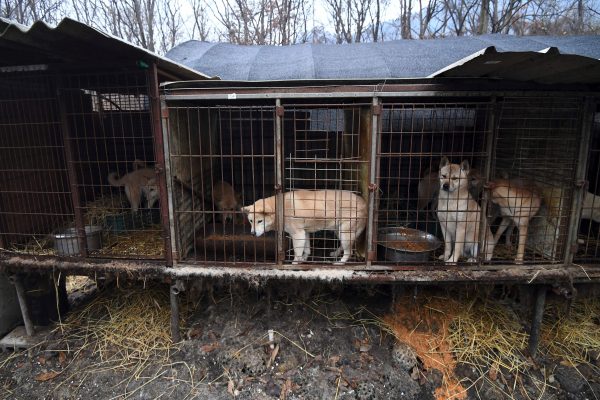 Despite attempts to get them to stop by local authorities, restaurants specialising in dog meat in Pyeongchang will still serve their traditional delicacy while South Korea hosts the Winter Olympics.
Earlier this week the charity saved 90 puppies and dogs from a dog meat farm after persuading the owner to give up his trade, according to the Sunday Mirror.
In the run-up to the #Winter Olympics, the South Korean government [VIDEO] shut-down some dog meat markets owing to global criticism, with some animal-welfare organizations calling for a boycott of the Olympics due to the practice. They also offered up to 10 million won to restaurants that would merely change the name of a dog meat dish called Boshingtang from "dog meat soup" to "nutritional soup" on their menu.
Humane Society International's Nara Kim was speaking after the charity said it had saved the lives of nearly 150 dogs by intervening in dog farms across the country. The team has taken a proactive stance in shutting down dog meat restaurants around the area.
The dog meat operation is located in Gangwon province, which is significant because it is the site of the 2018 Winter Olympics in Pyeongchang.
Signs advertising dog meat dishes such as boshintang (health-boosting soup), yeongyangtang (nutrient soup) or sacheoltang (year-round soup) have been replaced with more neutral ones such as yeomsotang (goat soup) to avoid giving "a bad impression to foreigners" during the Games, he added. Reports showed she also hoped to help put down a dog meat farm after the games.
Strangely, the slaughter of cats and dogs is still legal in 44 states in the USA, although it is not commonly practiced. It remains a divisive issue since a sizeable Korean population believes that even though they do not eat it themselves, others should not be restricted from enjoying the dish.
Farmers are becoming increasingly aware of the appalling trade and working with HSI to save dogs from this brutal animal abuse. The cruel killing methods may arise from a legal loophole that exempts dog meat - unlike beef, port, or poultry - from the Livestock Processing Act, which enforces hygienic slaughtering of livestock and processing of meat.
South Korean authorities sporadically try to persuade restaurants to change their menus or drop signs suggestive of dog meat during major worldwide events hosted by the country.
It has become more taboo as younger generations have come to view dogs as pets rather than food.
This is the sixth dog meat farm closure managed by HSI, with a total of 770 dogs rescued since January 2015 as part of the organization's campaign to end the dog meat trade in South Korea and across Asia.