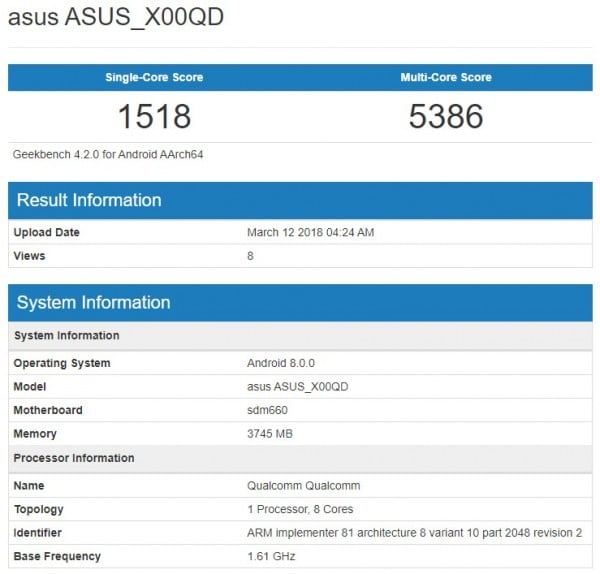 Now Zenfone 5 Max has been spotted on the GeekBench benchmarking website with model number ASUS_X00QD. Though the device did not make its appearance at the MWC 2018, it looks like we have some details of it. The listing has spilt some beans on the expected specifications of the upcoming smartphone.
The ZenFone 5 Max was recently discovered on Geekbench and it falls under the mid-range category of the ZenFone 5 devices, coming with a Snapdragon 660 processor and 4GB of RAM.
As far as the latest device is concerned, this will be named as the Asus Zenfone 5 Max which is the successor to the Asus Zenfone 4 Max which was announced by the company a year ago. GSMArena report claims that the device is likely to be powered by Qualcomm Snapdragon 660. The handset is based on the Android 8.0.0 Oreo operating system.
Earlier last week, ASUS Malaysia had announced the availability of its Android Oreo update for the ZenFone 3 (ZE520KL and ZE552KL) and ZenFone 4 (ZE554KL). We say so as the previous generation Zenfone Max models utilized low-end MediaTek chipsets. The device has managed to score 1518 points in the single-core test, while its multi-core test score is 5386 points. The company revealed three models as part of the ZenFone 5 series namely ZenFone 5 Lite, ZenFone 5 and, ZenFone 5Z.
The ZenFone 4 Pro (ZS551KL) is now receiving its own sweet 8.0 package OTA, with various power consumption improvements, important launcher changes and a "more friendly setting UI design" included in addition to all your typical Oreo upgrades, performance enhancements and interface revisions.