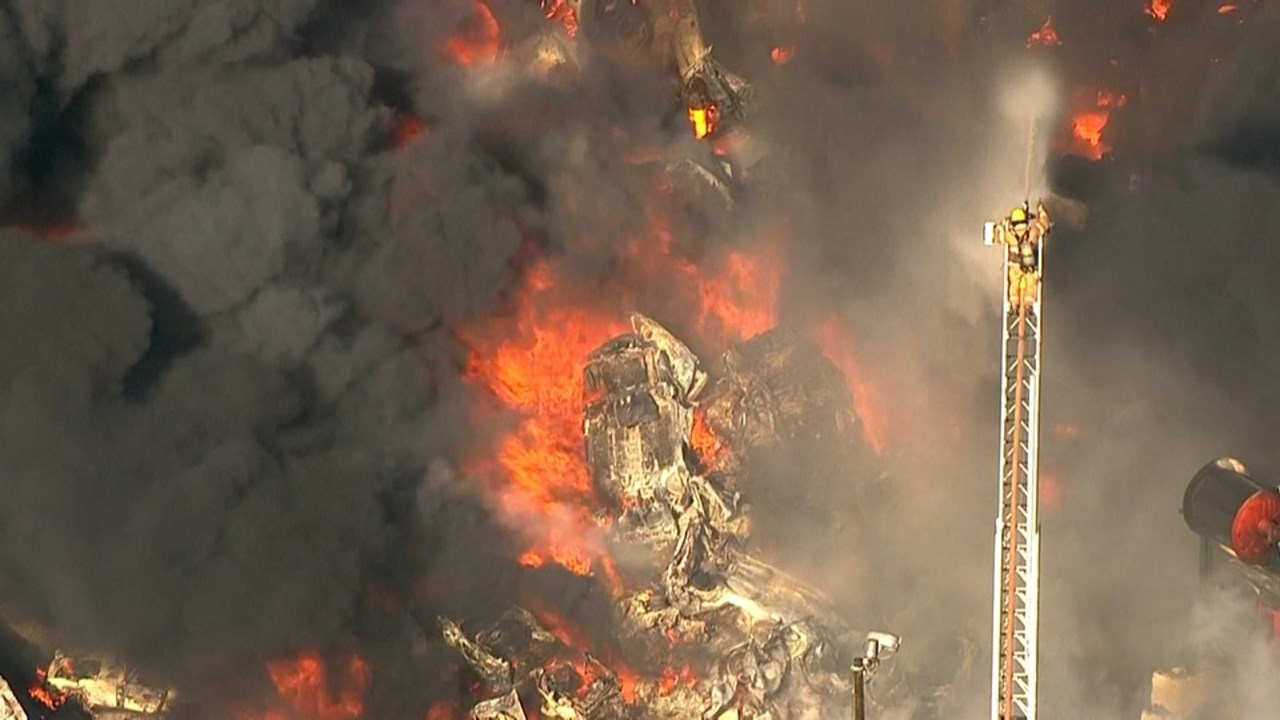 The fire began around 9 a.m.at the NW Metal scrap yard near 75th and Killingsworth, KOIN reported.
A large fire broke out Monday morning near Northeast 75th Avenue and Killingsworth Street at an auto salvage yard.
During the first few hours of the blaze, towering plumes of smoke could be seen throughout the Portland area and Vancouver, Wash.
A nearby duplex and apartment building burned, the report said, and 16 cats died in the fire.
The cause of the fire has not been determined, but firefighters confirmed it started in the scrap yard.
The Portland fire bureau says high winds are making the fire hard to fight.
A water bureau spokeswoman said what people were seeing was harmless sediment that was stirred up by the firefighting efforts. During a 3 p.m. press conference, a federal on-scene coordinator for the Environmental Protection Agency said air quality standards remain "slightly unhealthy" as far as a mile downrange from the fire site. "Smoke from burning tires include toxic chemicals of synthetic rubber compounds".
Portland Fire and Rescue had 138 total personnel on site assisting in fighting the fire, including 23 engines, seven trucks, one heavy squad, two rehab air units, nine chiefs and a full team of investigators. People who had to leave their homes because of the dense smoke were encouraged to find food and other assistance at the reception center.
Those people were assisted by the American Red Cross.
Firefighters and police were going to homes adjacent to the scrapyard to evacuate residents as they try to protect the houses from the fire. At least 10 dogs were rescued.
Around 115 students from Sacajawea Head Start on the 4800 block of Northeast 74th Avenue were evacuated, with school buses taking the students to Scott School, 6700 N.E. Prescott St., where parents were advised to pick up their children.