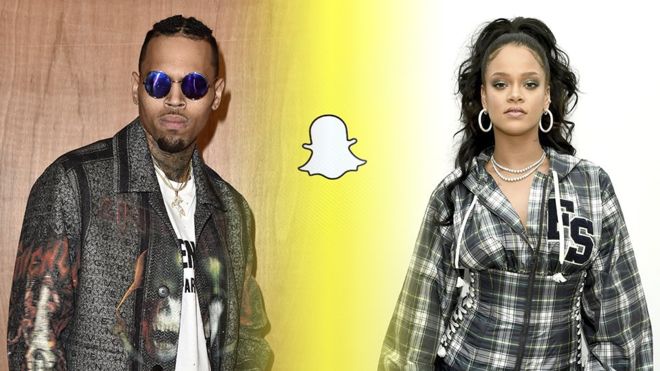 SNAPCHAT HAS APOLOGISED to Rihanna over advertising featuring the singer and ex-boyfriend Chris Brown that "made light of domestic violence". In the ad, Snapchat asked users if they would rather "slap Rihanna or punch Chris Brown".
This is in reference to the 2009 incident where Chris Brown was convicted of assaulting Rihanna.
In a statement to Newsbeat, Snap have said that the ad was approved "in error".
"The advert was reviewed and approved in error, as it violates our advertising guidelines", they told the BBC. Despite approving the ad, it says that the ad was removed last weekend when it became aware of it.
After the ad leaked, users and public figures like Chelsea Clinton took to Twitter expressing their anger with the social media app for approving such a distasteful ad, considering their impact on users, who are mainly teenagers. "We are sorry that this happened", the statement reads.
The apology comes on the heels of Snapchat's new update that puts more ads and paid content in feeds, which most Snapchat users already hate.
Royce Mann was one of the first to tweet about the ad's offensive premise, and activists like Brittany Packnett helped the story gain traction. "The update ain't the only thing that's wack (sic) over there, friends". Terrible that anyone thinks this is amusing. "Terrible that any company would approve this", she wrote.
He pleaded guilty to assaulting his former girlfriend and was sentenced to 180 days of community service for the attack. In its list of banned content, it includes shocking, sensational, or disrespectful content.