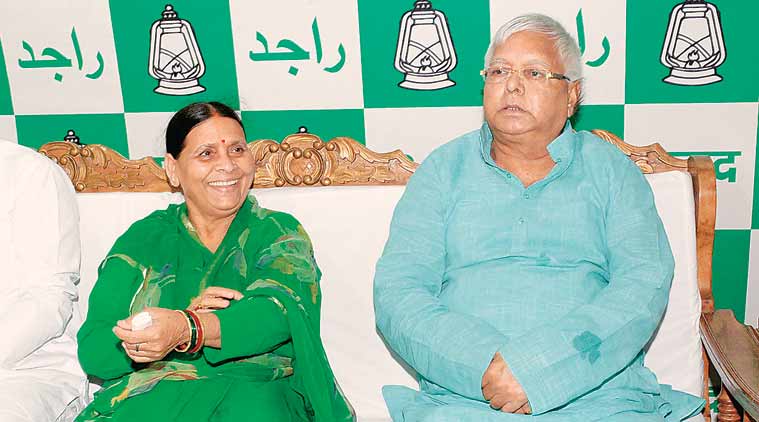 On April 10, the CBI had conducted raids on the Patna residence of Rabri Devi, along with interrogating her son and former Bihar deputy Chief Minister Tejashwi Yadav, who is one of the accused in the alleged corruption case.
The Central Bureau of Investigation (CBI) has filed chargesheet against former Railway Minister Lalu Prasad Yadav, his wife Rabri Devi, son Tejaswi Yadav and 11 others in connection with the IRCTC Scam.
As a quid pro quo, he "dishonestly and fraudulently" awarded the contract to them for the two hotels, the FIR had alleged. Rabri Devi's statement was recorded by CBI recently in connection with the case.
In the filed CBI chargesheet a Delhi-based private company, two Directors of a private hotel company, a private person, the then Managing Director of IRCTC, a Member of Parliament, and other officials from various departments under the IRCTC along with the Rashtriya Janata Dal (RJD) Chief and his wife included. Delight marketing company, now known as Lara Projects, and Sujata Hotels Private Limited, have also been named as accused companies in the charge sheet.
The CBI also charge-sheeted former GGM of IRCTC V.K. Asthana, R.K. Gogia - then GGM (company secretary) of IRCTC, Ramesh Saxena - then IRCTC Director and Sujata Hotels Pvt Ltd.
The railway hotel tender case pertains to irregularities in awarding the tender for development, maintenance, and operation of the BNR Hotels in Ranchi and Puri during Yadav's tenure as the Railway Minister from 2004 to 2009. In 2001, a decision was taken to handover management of catering services of Indian Railways, including of its hotels, to IRCTC.
On February 25, 2005, Kochars sold commercial property measuring 3 acres to Delight Marketing for Rs 1.47 crore. The upkeep of BNR hotels was transferred by IRCTC to Sujata Hotels through an allegedly rigged and manipulated tender process managed by P K Goel, the then MD IRCTC, CBI said.
It surfaced that while over 15 bid documents were received for both the hotels, IRCTC has no records of bidders other than Sujata Hotels. Sarla Gupta, who is the wife of Lalu's associate and RJD Rajya Sabha MP PC Gupta, was a director of Delight Marketing, which was transferred to Lalu and Tejashwi Yadav between 2010 and 2014. By this time Lalu Prasad had demitted the office of Railway Minister.