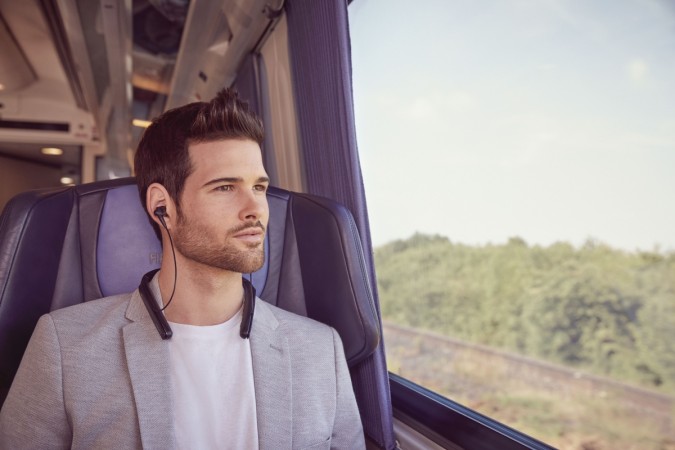 The new products launched today include WF-SP700N, WI-SP600N, WI-SP500, WI-C300, WH-CH400 and WH-CH500 headphones, and SRS-XB41, SRS-XB31 and SRS-XB21 Extra Bass speakers. The new WF-SP700N features digital noise cancelling technology and has a splash-proof design. All these headphones come with Sony's one-touch connectivity, NFC and Bluetooth functions. Boasting of Sony's Extra Bass feature, these portable speakers are rated IP67 and are water- and dust-proof. The wireless headphone has a battery life of around three hours, which offers two additional charges to the headphone. The WF-SP700N and WI-SP600N also bring in support for Google Assistant which will be added via a software update.
The highlight of this product lineup is the company's first truly noise cancelling headphone that also supports digital noise cancelling technology.
In the same series, there is the WI-SP600N and the SP500, which have a neckband design with an inbuilt microphone. These speakers have a 24 hour battery life and upto 100 speakers can be connected to create Wireless Party Chain via Bluetooth. Sony is also introducing WI-C300, WH-CH400 and WH-CH500 as part of the revamped lineup in India. WI-C300, WH-CH400 and WH-CH500 One common feature among these three audio products is that they are compatible with Google assistant on a press of a button.
Sony's extra bass series headphones has been refreshed with three devices - SRS-XB41, SRS-XB31 and SRS-XB21. In the top range, the WF-SP700N costs Rs 12,990, the WI-SP600N will set you back by Rs 9,990 and the WI-SP500 costs Rs 4,990. The new headphone range is priced at Rs 2,990 onwards while the speaker range starts at Rs 7,990 onwards. It has been priced at Rs. 15,990 and will be available starting May 15. These speakers are equipped with multi-colour line lights and focus on bass-heavy music and their "Party Booster" mode is said to enhance the beats by detecting tapping from 5 different directions curtesy its built-in accelerometer that generates a sound and lighting reaction. The WH-CH500 will be available from May 15, and is priced at Rs 4,990. The cheaper SP500 claims to offer eight hours of battery.