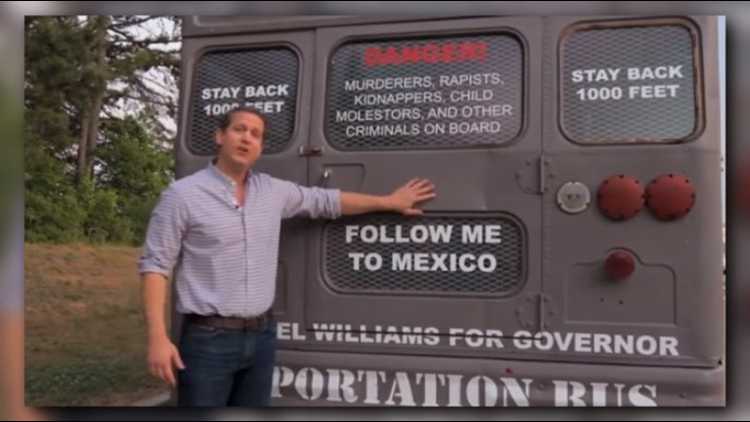 On Sunday, social media was plagued with a series of images shared by Ana Clavel on Facebook from Georgia, showing a "deportation bus" painted with the campaign slogans of a certain Michael Williams.
In the related campaign video above, Williams can be seen deboarding a converted school bus, professionally redone in grey and white paint, displaying a government-agency-like-seal, and vehicle lettering with phrases like "Deportation Bus", "Follow Me to Mexico", and "Danger!"
"We're not just gonna track 'em and watch 'em roam around our state", says Williams.
His campaign published a video saying this tour would not "be one of those pansy political bus tours".
In case it needs spelling out, Williams is running for governor on a hardline anti-immigration message. The way it works, according to ICE, is that local or state law enforcement "enter into a partnership with ICE, under a joint Memorandum of Agreement (MOA), in order to receive delegated authority for immigration enforcement within their jurisdictions".
Critics of the program say it is costly for the localities, targets relatively minor criminals, and can damage the relationship between police and communities.
287 (g) is a program involving cooperation between U.S. Immigration and Customs Enforcement (ICE) and state or local law enforcement.
It wasn't enough with Roy Moore and his camp or the conspiracy theories of Fox and Friends, now there is a candidate for the governor of Georgia who campaigns in what he has called "the deportation bus". There's little disputing that, now that we've seen the Deportation Bus.
Kemp and Williams will face off against other Republicans looking to replace outgoing Republican Gov. Nathan Deal, including frontrunner Lt. Gov. Casey Cagle, former state Sen.
A recent poll conducted by the University of Georgia found that 3 percent of voters say they support him. At the moment, current Lieutenant Gov. Casey Cagle (R) is leading in both polls and fundraising, with nearly $7 million raised and 41 percent of the vote. Go to deportationbus.com. Previous year he posed for a photo with members of the Georgia Security Force 3% militia, an anti-government group that turned up to the "March Against Sharia" protest in Atlanta decked out in combat fatigues and wielding rifles and shotguns.