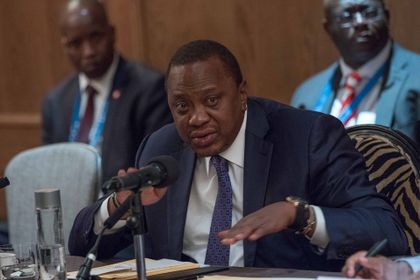 In a Cyber Crime law Bill assented into law by the Head of State on Wednesday, the country will also penalise heavily those spreading hate-speech on electronic media platforms.
The bill had generated a lot of debate due to several contentious clauses that many rights activists termed as an infringement to Kenyans freedom of expression.
The clause says if a person "intentionally publishes false, misleading or fictitious data or misinforms with intent that the data shall be considered or acted upon as authentic", they can be fined up to 5 000 000 shilling (nearly R620 000) or imprisoned for up to two years.
Such crimes were listed as; cyber espionage, computer fraud, unauthorised access, interference and interception to security systems as well as use of illegal devices and access codes.
It also gives the police special powers over telecommunication service providers. Spreading of child pornography will attract a Sh20 million fine or 25 years in prison or both.
President Uhuru Kenyatta during the signing of the bill. This Bill amends various provisions of the Public Trustee Act, bringing it into conformity with the Constitution.
Still, the new law is expected to tame Kenyans' online habits.
Others include identity theft and impersonation, phishing, interception of electronic messages or money transfers, willful misdirection of electronic messages and fraudulent use of electronic data.
Similarly, sharing pornography through the various electronic means will attract a maximum of Sh300,000 or 10 years in prison, or both if convicted.
The Bills were presented to the President for signing by National Assembly Speaker Justin Muturi.
The Kenya Union of Journalists (KUJ) Secretary General Eric Oduor said the union was studying the new law.
New York-based media rights watchdog the Committee to Protect Journalists (CPJ) warned last week however that the bill could criminalise free speech, "with journalists and bloggers likely to be among the first victims if it is signed into law".
Earlier, Esipisu had promised CPJ that presidency would consider reservations raised about the Bill before signing it into law.