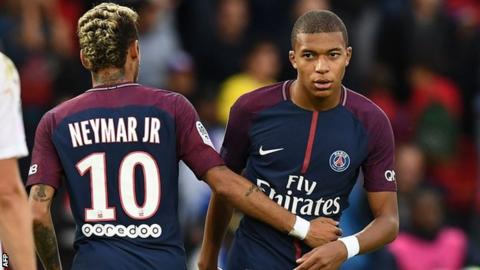 UEFA closed its FFP investigation into PSG on Wednesday after declaring itself satisfied with their "break-even result" for 2015-17.
If they fail to raise the money, the club will face sanctions. However, the club remain under scrutiny for transfer activity from last summer up to and including this summer's window, and their compliance with this year's break-even requirements. Such decision follows a detailed review of transfer contracts and an analysis of the related management accounts which confirmed that such transactions were in line with the UEFA Club Licensing & Financial Fair Play Regulations.
United Kingdom newspaper the Financial Times reported in April that PSG could be sanctioned under FFP rules having secured sponsorship deals valued at more than the fair market rate.
The contracts were reported to be worth in the region of €200m (£176m/$236m), helping to cover the shortfall left by Neymar's world-record move from Barcelona in August.
PSG bought Brazil forward Neymar for €222 million, more than double the previous price paid for a player, and later signed Kylian Mbappe on loan from AS Monaco with an option to buy after one season.
While European football's governing body said the "break-even result of the club remains within acceptable deviation", PSG will reportedly have to raise 60m euros from player sales within the next few weeks in order to balance the books for the current financial year.
This is because of Uefa's Financial FFP "break-even" rules, introduced in 2013, which requires clubs to balance their spending and revenue.
PSG have been able to improve their accounts by restructuring several commercial deals, and this has ensured that the club has broken even in the financial years for 2015, 2016 and 2017.